Omniangle Cites Progress Made by FTC Operation Tech Trap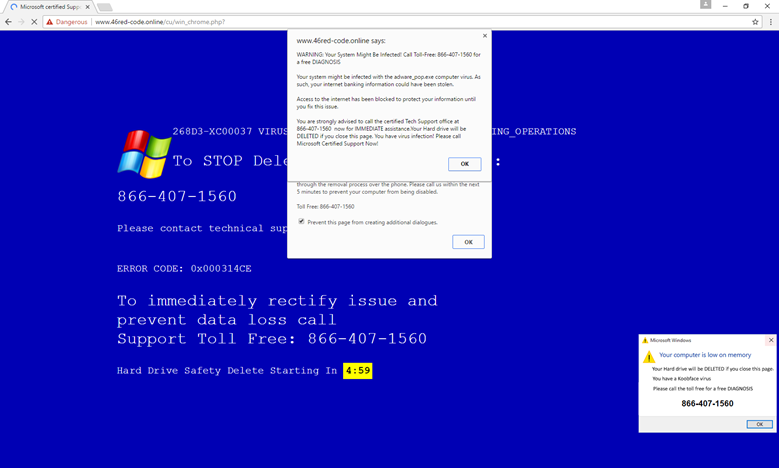 May 15, 2017
The Federal Trade Commission is leading an international effort to protect consumers from pop-up ads that look like security alerts from technology companies such as Microsoft or Apple. The ads tell consumers their computers have been attacked and are urged to call toll-free numbers to pay hundreds of dollars for unnecessary computer repairs and products to help clean up their systems and secure their vital personal information. The FTC, working with other government partners, rolled out "Operation Tech Trap" to find and end the activities of these deceptive tech support scams.
As a cyber intelligence firm tasked with monitoring the online marketing sector, Omniangle Technologies continues to encounter many tech support scams that claim a user's computer has been compromised. According to Omniangle Founder and CEO, Jonathan Gillman, "With every other headline being about cyber threats, consumers fall for these tactics because they believe their device has truly been hacked. While Operation Tech Trap is off to a promising start, many of these tactics are still plaguing consumers. We applaud the FTC for leading an international effort against this very real and persistent cyber threat."
According to Acting Director of the FTC Bureau of Consumer Protection, Tom Pahl, "Tech support scams prey on consumers' legitimate concerns about malware, viruses and other cyber threats. Pahl added, "The FTC is proud to work with federal, state and international partners to take down these scams, and help consumers learn how they can safeguard their computers against real cybersecurity threats." Operation Tech Trap's coordinated efforts produced 16 new actions that included complaints, settlements, indictments, and guilty pleas, bringing the number of law enforcement actions to 29 in the past year.
Media Contact:
Vicky Durkin
Vice-President of Communication
vdurkin@omniangle.com
Omniangle Technologies
Omniangle.com